Our Cocker Spaniel puppy Vader has grown so much since we got him almost three month ago. He is now taller than even fully grown Cocker Spaniel bitches. We also managed to house train him in record time. And mostly thanks to Silke's continuous efforts Vader does not only come when being called but also obeys other useful commands and walks well with or without a lead.
Last Friday Chris suggested to take advantage of the brilliant weather and go on a punting trip. As this sounded like an excellent idea we decided to join in and take Vader with us, while Silke also used it as an excuse to try a new Muffin recipe.
The following day we met with Chris and Jeremy at the Mill Pond in Cambridge and hired a punt. It was a really lovely day and the city centre was densely packed. After enjoying the sunshine for about half an hour in a nearby park we could board our punt. Vader was a bit nervous at the beginning because being on a boat was a new experience for him.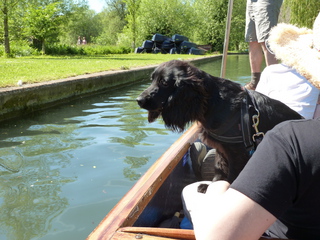 But after a while he really started to enjoy the trip.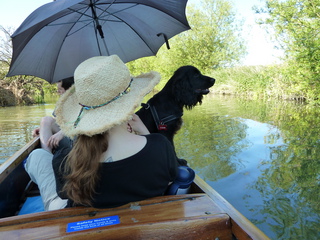 Thanks to Chris's and Jeremy's formidable skills in handling a punt we made it all the way to the Byron's Pool where a weir divides the river Cam. When we got off the boat we met Islay, an eight month old Labrador puppy, and her owners. Vader had a lot of fun playing with Islay and the two dogs zipped around us like bats out of hell.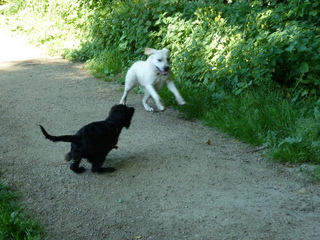 After all that excitement and exercise Vader got very tired on the way back to Cambridge. After a few minutes he was sound asleep in the punt.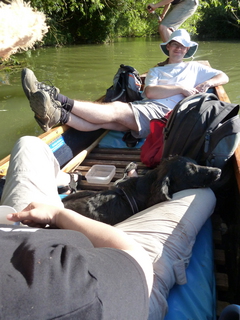 Overall we all had a really great day. Vader handled his first punting trip very well and enjoyed it like the rest of us.
If you want to see more pictures of our expedition please have a look at Chris's blog posting.