As we didn't get to the Pinar de Tamadaba on Thursday Silke and I made another attempt today. We drove over the island's motorways almost to Agaete at the north coast of the island. Then we took a road south through the mountains. After cruising over the usual serpentines for an hour we reached a valley which provided a spectacular view from an observation point. We could see all the way to the Teide on Tenerife.
After a short break we continued our trip to the Pinar de Tamadaba. When we finally arrived at the ring road through the forrest we parked the cark and began to climb the peak of Montaña de Tamadaba. It was hot as usual and the trees didn't provide as much shade as we had hoped for. But in the end we made it all the way to the top. We were rewarded with an incredible view of the forrest, the Roque Nublo …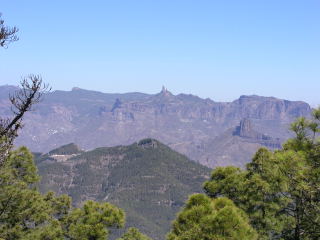 … and Tenerife.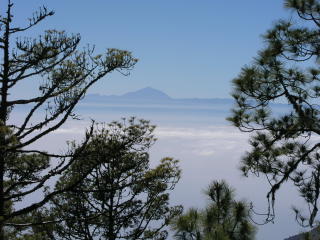 We didn't stay up there for long because the sun was still roasting us without mercy. As usual the way down was much easier.