Silke and I are back in Edinburgh. We had a great time during our last visit and there was just not enough time to visit all the interesting spots.
After wandering through Old Town and visiting Mary King's Close yesterday we decided to go to Holyrood park and climb up on Arthur's Seat today. During our last holiday here we both hadn't been well enough to get to the top. But we were determined to make it this time.
The weather seemed to be on our side and pampered us with a blue sky and sun shine. But we forgot about the wind. The higher we climbed up the stronger the wind got. When we finally reached the peak it felt like being caught in a storm. Silke had a real hard time to take some nice photos because gusts of wind kept shaking the camera. But she managed to get a decent shot of the Salisbury Crags and the castle nevertheless.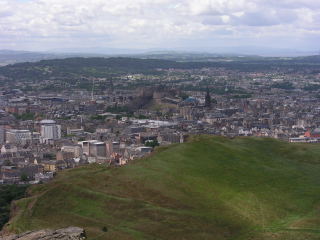 Although the view was spectacular we didn't linger for long because the wind was quite unpleasant. When we were back down we decided that we had earned a treat after this ordeal.
We started for New Town to visit the Plaisir du Chocolat, our favourite cafe in Edinburgh. But when we arrived there about an hour later we were deeply disappointed. The cafe which had been relocated to Thistle Street during the last year was closed … hopefully only for redecoration.
After a break in the Great Grog bar we took a walk through New Town and finally had dinner at The Sizzling Scot which was opened to our delight.