After exploring the surroundings of the Hotel during our first day on Gran Canaria Silke and I went to have a look at the rest of the island yesterday. We decided to visit the Pinar de Tamadaba, a large pine forrest in the nothern part of the island.
After two hours of driving over mountain roads with lots and lots of serpentines we stopped for lunch at the restaurant La Candelilla. As we weren't even close to our destination yet we changed our plans and settled on visiting the nearby Roque Nublo. The Roque Nublo is a 64 metre tall basalt monolith. It was created by volcanic activity over 3 million years ago.
The landscape in the mountains was spectacular. We grabbed a bottle of water and began the climb up the rocky path.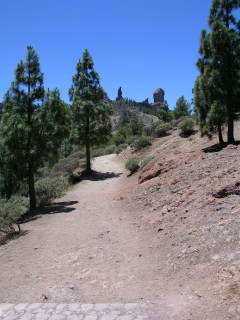 The air was hot and smelled intensely of pines. Altogether it felt like walking in a dry sauna until we were above the treeline. The landscape up there reminded me of pictures of the surface of the moon.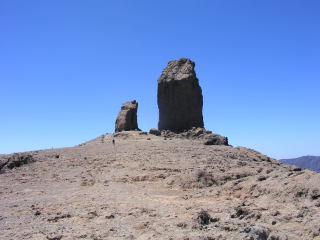 Another quarter of an hour later we finally reached the Roque Nublo. The view from up there was worth the effort. I was very happy that altitude sickness didn't stop me this time.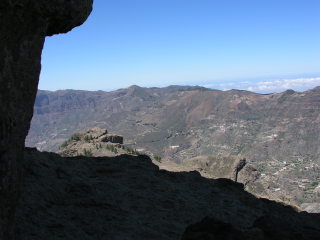 After a few minutes we made our way back to the car park. Down there we bought a few bottles of mineral water because we had gotten very thirsty in the meantime. After a short break we drove back to the Hotel in good spirits.