Today is a very sad day for Silke and me because we had to say goodbye to our beloved Cocker Spaniel Vader.
Vader was unfortunately in bad health for over a year. He got diagnosed with cancer last April. But after a successful treatment of the tumour he outlived the doctor's estimates by several month. A few weeks ago we learned that the cancer had started to spread and further treatment was not possible.
Over the last two weeks Vader's arthritis flared up. The last two days he was even struggling to walk. When Silke and I found him in a lot of pain this night we knew it was time to let go of him. 😥
Here is the last photo of Vader that Silke took yesterday.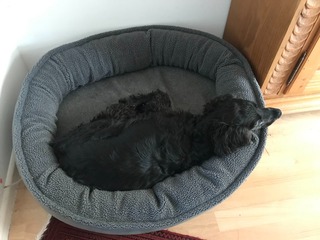 Silke and I miss him terribly. But we try to remember the wonderful time that we had with our amazing dog.