Last Saturday I reached a milestone while playing Destiny: my character, an Awoken Warlock, finally reached level 30, the current maximum level.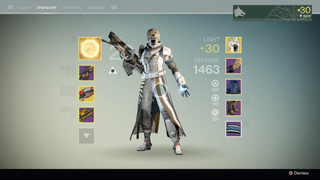 It took me a long time to get there. I had to try for three weeks just to acquire an helmet to complete the armour set. But I definitely had fun on the way. Completing the Vault of Glass or a Strike for the first time felt really good. I also met a lot of nice players without whom I couldn't have done it. Destiny is a cooperative game after all. It is just a little bit annoying that the support for cooperative playing is somewhat underdeveloped.
For the first extension Bungie have announced that they will increase the maximum level to 32. My guess is that reaching level 32 will require me to replace all four pieces of my character's armour and upgrade each of the new pieces. I would basically have to start (almost) from scratch again. And I'm not sure that I'm up for that.