The week before last I flew to New York with two fellow workers on a business trip. We arrived at John F. Kennedy International Airport on Thursday about noon and directly went into a meeting with a customer. After a very long day (I had to get up at 4:00 am UK time) I was very happy when I finally was in my (very nice) hotel room. After another day of meetings we finally had time to go to Manhattan on Friday evening.
After wandering through the city centre for a bit we made it to Times Square which looked spectacular in the dusk.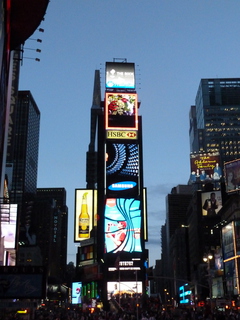 After a good steak for dinner we went back to the Hotel to catch up on lost sleep.
The next morning we checked out of the Hotel reasonably early, dropped of our bags at the airport and went back to Manhattan as our flight wasn't leaving before the evening. This time we visited the Feast of San Gennaro in Little Italy.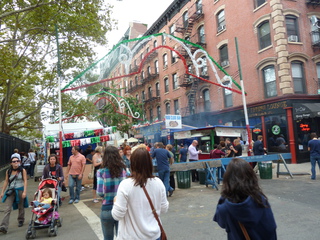 After wandering around for a while and buying some small presents we want back to the Airport.
As you have probably noticed we didn't have that much time to tour the city. There are so many places left that I would really love to visit, so many things I would like to do. I guess I will simply have to come back one day, but this time with Silke and if at all possible with Vader as well.