Silke and I had a really good time at HAR2009. Except for the freezing temperatures during the first night the weather was marvellous: a lot of sunshine, a cool breeze and not a single drop of rain. Our cunning plan to get warmer nights by investing in an additional cozy sleeping bag paid off nicely by the way 😉
I attended a presentation about the Native IPv6 deployment at XS4ALL and Silke learned how to brew beer. We even found time to leave the camping site and visited the nearby towns Vierhouten and Nunspeet. We especially liked the Pannkoekehuis Likkepot in Vierhouten where you can get an astonishing wide range of sweet and savoury pancakes. Those we tried were delicious. The rest of time we mostly hung out in the BSD tent, …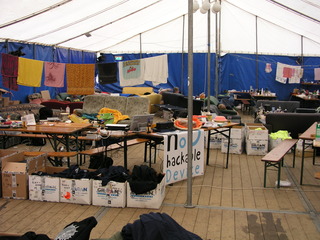 … talked to people and even got a bit of hacking done.
The four days spun away and on Sunday morning it was time to take down our tent and carry all our belongings back to the car. After a final meal of tasty pancakes we drove back to Hoek van Holland to catch the ferry back to England. We arrived in Cambridge the next morning, a bit tired but relaxed and in good humour.
Unfortunately the daily grind caught up us with very quickly. We had a rough week and were very happy when we made it to the weekend. But after a refreshing sunday afternoon tea at Peacocks Tearoom and a nice walk along the river Great Ouse things look much better now.