Despite almost getting flushed away by rain during What The Hack Silke and I went on another camping event, the Hacking At Random. We arrived in Holland by car ferry early in the morning and drove to the campsite. When we got there we discovered that it was already quite full and it would be hard to find a spot for our somewhat spacious tent. Fortunately we found a suitable location on a small hill: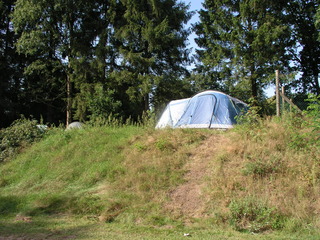 We hope this spot will also keep our tent dry in case of rain. Talking about rain: so far the weather is much nicer (fingers crossed and touch wood) than during What The Hack … probably because Silke and I are better prepared.
After setting up the tent and fetching all our stuff (too much as usual) from the car in the external car park we finally had time to roam through the camp. During our walk we met some old friends, bought the obligatory t-shirts, browsed the display of the book shop and finally had a nice dinner.