On our last morning in Edinburgh we decided to skip the breakfast in the Hotel and instead go to a cafe. My wife suggested to visit the Plaisir du Chocolat, a french style tearoom near Canongate. Because I'm a huge fan of chocolate it wasn't very difficult for her to persuade me.
And it was indeed all about chocolate. Besides offering a large variety of (mostly) chocolate cakes they had a dozen different kinds of hot chocolates on their menu. They differed in the kind of cocoa beans and (often alcoholic) extra ingredients. Being a bit cautious I went for a Chocolate chaud a plain hot chocolate which tasted exquisite nevertheless. Refreshed and in good mood we started out to Holyrood park.
Both having a cold we only wanted to have a look-around. But the landscape up there in the hills is so beautiful.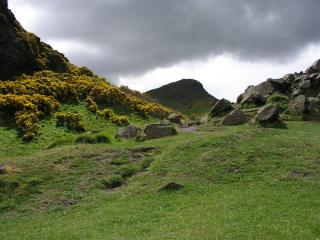 And in the end we climbed up much higher than we initially wanted.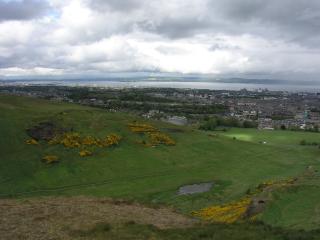 We didn't make it to the top of Arthur's Seat unfortunately. But we are determined to come back one day and try again when we are both fit.