After an uneventful journey with easyJet from London Stansted my wife and I arrived in Edinburgh early in the afternoon. We took the Airlink 100 bus service from the aiport into the city centre. During the bus ride we enjoyed the view on the interesting mix of old and new architecture in the outskirts of Edingburgh. We finally left the bus at the stop next to the main train station.
After walking through the hilly city centre for about twenty minutes we arrived at the Ten Hill Place Hotel. It's a modern building which blends in nicely with the surrounding old architecture. The interior decoration matches the elegant exterior.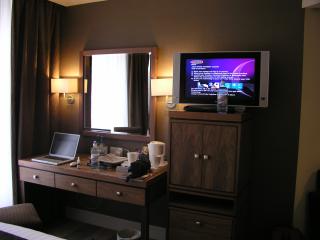 Besides that the hotel room provides services I fancy: a very comfortable bed, a nice bathroom, a flatscreen TV and last but not least free high-speed Internet access via ethernet.
After a relaxing break (we had after all to get up at 7:00 am on a bank holiday) we will now take off and have a closer look at the city.