Yesterday we set off to Santa Cruz, the capital of Tenerife. We had to visit the administration of the Parque Nacional del Teide to get permits for climbing to the top of the Teide. Our original plan was to visit the Teide today but the administration told us that it is full which probably meant that they had granted the maximum number of permits for that day. Fortunately we got permits for Friday instead. After having lunch we left Santa Cruz because it is not a very appealing city unless you want to go shopping.
We decided to take a detour on the way back and have a look at the primeval forest in the mountains. After driving up serpentines for an hour we reached an observation point in the forrest and parked the car. Our original plan was to walt through the forrest for an hour. But because there was no path we had enough after climbing between the trees for half an hour.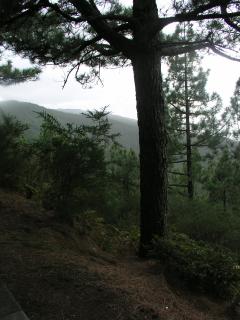 The view from the mountains was impressive but the hazy weather prevented us from seeing the neighbouring islands.