Paris is always worth a visit. There are countless museums, impressive buildings and grandiose parks. And if you need a break after all the sightseeing there is always a restaurant nearby where you can get excellent food.
Silke and I dedicated our recent trip to the art of Claude Monet. We started by visiting the Musée de l'Orangerie which reopened in 2006 after seven years of renovation. Here we could finally see Monet's magnificent paintings of the Water Lilies. For Silke a dream came true. While she had already seen other smaller paintings of the Water Lilies before she really wanted to see the eight tremendous canvases in the Musée de l'Orangerie.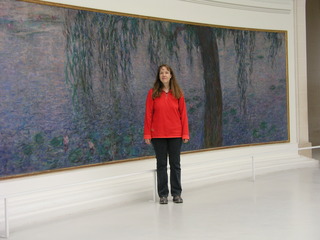 The next day we went on a trip to Giverny a picturesque village in the Normandy. Claude Monet moved to a country estate in Giverny in 1883 and bought it in 1890. With the help of his family he planted a beautiful garden on the property. Monet spent most of his remaining life there and made his home world famous by painting the water lilies in his water garden. Silke and I were curios to see what the garden looked like which inspired Monet that much. When we got there we began to understand.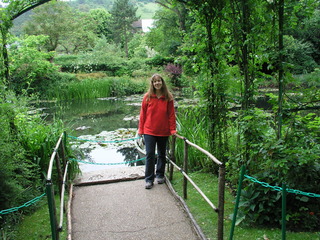 You can really feel the ambiance and tranquility that his garden has. And it would be even better if it wasn't full of tourists. 😐
What else did Silke and I do in Paris? We visited several parks, walked along boulevards, went shopping at Fauchon, Betjeman and Barton and the Galeries Lafayette and enjoyed a lot of very good food. But there are still so many places in Paris that we want to see.