The hotel turned out to be marvelous. An impressive building directly at the coast with great hotel rooms like this one: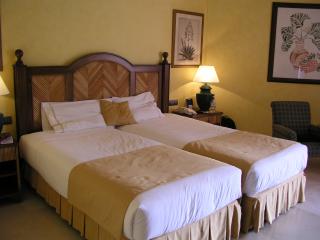 The bathroom is very luxurious with a washbasin for each of us, a large shower cabin and a bath tub.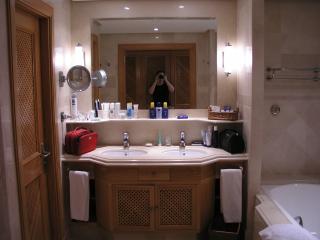 I'm going to miss that shower when we return home because it works much better than the usual electric shower in a house in England.
The hotel is definitely geek compatible. Besides providing a fine working Wireless LAN with an afforable weeky rate the room also includes a safe which is large enough for a notebook. The safe even has a power outlet on the inside which allows you to recharge your equipment while it is locked away.
After a good night rest we were looking forward to the breakfast. The hotel offers a stunning buffet: all kinds of bread, cheese, cold meat and jam, donuts, waffles, pancakes, donuts, fruits, joghurts, eggs and lots more. The only problem was to decide what to eat. But fortunately we have a week to try out everything. 🙂